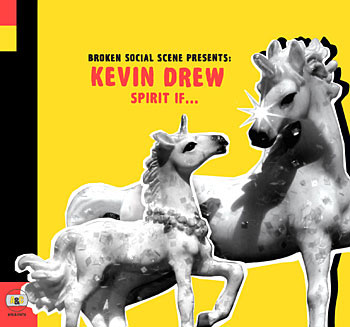 There aren't many bands out there right now that I like more than Toronto's Broken Social Scene. Not only are all their albums great (their last two are especially exceptional), but they put on one of the more entertaining live shows you will see. I think the fact that the band has 16 members has something to do with how fun their music is to listen to. If you listen to any of the various solo and side projects affiliated with the band (Feist, Metric, Stars, Do Make Say Think, etc.) it is pretty obvious that they music with an ambition and energy that seeks to fill the room with sound. Every time I listen to BSS I am always aware of how my mood instantly becomes brighter and upbeat, which is a direct response to the anthemic nature of their sound.

Needless to say, when I heard lead singer Kevin Drew was releasing his first solo record I was giddy with excitement. And now that I have had the chance to give Spirit If a few listens, I am pretty sure this album will make it towards the top of my Best Albums of 2007 list (and yes, I am making mental notes about which albums will make the cut). Why the high praise after only one day of owning the album? Because Drew is able to duplicate the infectious energy of BSS (perhaps the help of most of his band mates has something to do with it) while still giving the album an identity all it's own.

On "Lucky Ones" the whole BSS crew pitches in and the result is a beautifully arranged epic that builds and builds with layer upon layer of instrumentation. Basically it is a nearly seven minute crash course in everything that is wonderful about the collective of musicians that is Broken Social Scene. For me, it is a song that inspires the kind of uplifting moments that I never grow tired of.