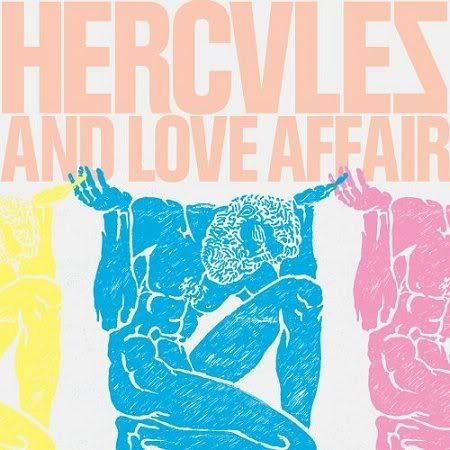 I always thought disco music was far more abstract than many people may recognize. Even though the Disco era gave us "Play That Funky Music", Teena Marie, and ABBA (nothing against ABBA, btw), it also blessed us with
Giorgio Moroder
,
The Wiz
(for better or worse, but still undeniably strange) and
Arthur Russell
. Mr. Russell's legacy as a monumental figure of the disco movement keeps growing as each year passes and more artists emulate aspects of his musical style.
I can name several artists on
DFA Records
alone that owe a huge debt to the dance rhythms created by Russell, which makes it no surprise that one of their newest acts has pulled off perhaps the best Arthur Russell homage I've ever heard.
Hercules and Love Affair is the brainchild of New York DJ Andy Butler, who enlisted the help of Antony Hegarty (from Antony and the Johnsons) and Tim Goldsworthy (among others) to create the group's debut self-titled album. The entire album is indebted to the legacy of Russell, but it was "Raise it Up" that instantly gave me goosebumps for how striking the resemblance is. Now, it isn't a straight carbon copy, since the pace is a little quicker than typical Arthur Russell beats, and the inclusion of Antony's unmistakable wail is in itself sufficient enough to provide a real distinction.

About that voice. I know I'm in the minority, but I've never much cared for Antony and the Johnsons, consequently making me skeptical every time I hear of a new collaboration of his. I've always found his voice too whiny for my tastes. His guest work on Bjork's Volta started chipping away at the prejudice a bit, but you'd need to have a crappy nose for hypocricy to cry about someone's voice being a distraction when they share the mic with Bjork. On this track and throughout Hercules and Love Affair's debut Hegarty sounds perfectly suited for this particular brand of space disco. I don't know if it is Goldsworthy's production or Butler's beautifully crafted songs, my guess it is a little of both, but the setting manages to turn Antony's voice into an asset.

Even though the lyrics are far from uplifting, Antony manages to sound that way during this song. I guess just because you're sad doesn't mean you wouldn't still be in the mood to dance.

Hercules and Love Affair - "Raise Me Up" (from

Hercules and Love Affair

)


. . .And just for comparison's sake:

Arthur Russell - "Loose Joints" (from

The World of Arthur Russell

)