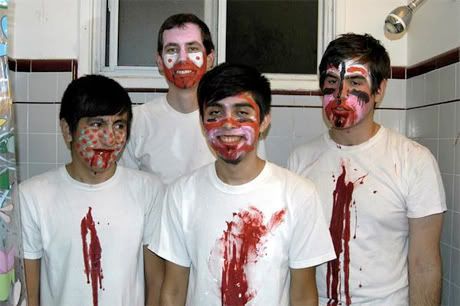 Anyone who has ever spent a significant amount of time in Los Angeles knows their experience is party shaped by their proximity to the activities they like to do (good shopping, parks, bars/restaurants, etc.). Driving the freeways can be a bitch and public transit isn't exactly the badge of honor it should be for the nation's second largest city, which means if you don't live close to places you like to go to, then you wind up wasting too much time merely getting to those places and usually end up staying home (ask anyone who lives in Santa Monica to go East of the 405 during the weekend to see this theory in action). It is for this reason that I relish being living in Silver Lake and, by the same token, why it is a genuinely exciting time to be a music fan in Los Angeles.
Plain and simple, there's quite a roster of quality bands who have shaped the music scene in this part of town to one of the most dynamic in America. Peruse the blogosphere, the music festival circuit, MySpace, music mags, and indie radio and you're bound to run into at least one person raving about any number of LA-based bands like
No Age
,
Lavender Diamond
,
Health
,
Mika Miko
, or
The Airborne Toxic Event
. Another mainstay of the Eastside LA scene (not to be confused with East LA, which is someplace completely different) who undoubtedly deserves inclusion on that list is
Abe Vigoda
.
Originally from Chino (where the band met in high school), they relocated to LA a couple of years ago and quickly made a name for themselves within
The Smell
scene, named after the namesake downtown LA club where No Age, Health and Mika Miko also cut their teeth. While that scene isn't particularly big, the people who frequent the The Smell are exactly the type of loyal and feverishly enthusiastic fans that always seem to get the notoriety ball rolling for indie bands. Throw in the tastemaking influence of
KXLU
, MySpace and local publications and all of a sudden Abe Vigoda finds themselves touring across the nation with the likes of their BFF No Age and also with the equally buzzworthy
High Places
.
Comprised of vocalist/guitarist Michael Vidal, guitarist Juan Velasquez, bassist David Reichardt, and drummer Reggie Guerrero, many people describe Abe Vigoda's music as "tropical punk", whatever the hell that means. I think that characterization is meant to underscore how, rhythmically, their sharp guitars sound an awful lot like somebody frantically pounding away at the steel drums. The breakneck pace of their songs, with layers of throbbing bass and drumline-esque percussion (especially on the snare and cowbell) give their music a bigger and deeper sound than you'd expect from a band who typically wraps things up in 1-3 minutes.

But their style is such that nothing seems rushed or hastily planed. There's a method to this madness and often times that method results in me getting the urge to dance. I don't exactly know how I would look dancing to something like this, but I imagine whatever it is it involves a bunch of shaking and flailing of my arms. I have the feeling I would probably fit right in with 90% of Abe Vigoda's target audience, not to mention the band themselves.
Abe Vigoda - "The Garden" (from

Skeleton

)
Abe Vigoda - "Animal Ghosts" (from

Skeleton

)