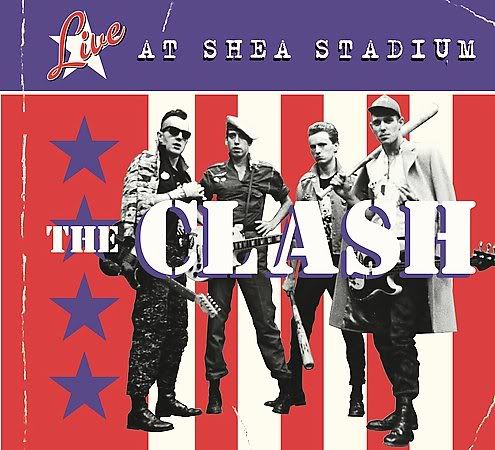 I have really neglected this blog lately. It seems that in the last two weeks I haven't been able to come up with anything interesting to write about. Lately I've been listening to mostly old David Bowie, Lou Reed, The Smiths, and early Rolling Stones, and since millions of words have been written about all of those artists, it's not really my place to add anything to that criticism. Being out of the loop on newer music (at least in the last two weeks) is often the cause of all my bouts with writer's block. Luckily, a new release from
The Clash
came around to bring me out of my funk.
Live at Shea Stadium
marks an important moment in The Clash's legendary history. They were finally becoming a household name in the States after the release of
Combat Rock
, yet the band was internally falling apart. Just prior to being invited to open for The Who in 1982 the band ousted longtime drummer Topper Headon due to his heroin abuse and replaced him with original drummer Terry Chimes, who was not as highly regarded by most of their fans. Only one year later singer-guitarist Mick Jones would leave the band and The Clash would essentially be dead forever.
But just before they broke up for good The Clash was at their apex on this cold and rainy night in New York City. Often bootlegged during the past 25 years, this excellent sounding official release displays the band doing their best to win over the crowd of mostly ambivalent fans who came to see The Who. As a result, the setlist was heavy on the hits, as Joe Strummer artfully directed the band's breakneck pace for over 47 minutes.

My favorite moment of their set was this little medley of "The Magnificent Seven" and Willie William's "Armagideon Time," which probably didn't go over as well as "Should I Stay or Should I Go?" or "Train in Vain", but to me sounded like the epitome of what The Clash were all about.

For one, "The Magnificent Seven" is my favorite song in their catalog, so I am a little biased to begin with. It's easily one of the funkiest rock songs of the 80's and it so perfectly captures how vast and varied the band's creative influences were. If most of the crowd hadn't heard much funk or rap music before, you can bet Joe Strummer wasn't going to let such a golden opportunity to spread the word go by. And for good measure he manages to squeeze in some reggae music by announcing to the crowd that he's going to "take you to Jamaica."

Right as the spotlight was brightest Strummer and his band mates chose to focus some of it on black music in front of a mostly white crowd. Before the segue into "Armagideon Time" Strummer announces to the crowd that they "stole" the "black New York rhythm" to "The Magnificent Seven", as if to imply there's plenty of great music to be found throughout the streets of NYC if you just open your ears.

If you know anything about Joe Strummer, such a move shouldn't come as a surprise. He always used his notoriety to shine a light on music and political issues that never made it to the mainstream. Sure, most of the crowd probably had no idea what he was talking about, nor did they care, but undoubtedly at least handful of attendees that night understood what Joe was trying to say, which was all he needed to bring his point across.

The Clash - "The Magnificent Seven/Armagideon Time" (from

Live at Shea Stdium

)