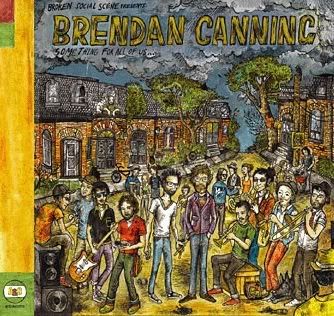 Broken Social Scene
are so damn likable that they actually influence my opinion of Canada as a whole. Nobody has as much fun making music and very few bands work as hard as they do. Between recording excellent proper BSS albums, the 19 members that comprise the collective spend their time recording and collaborating with many different bands like Do Make Say Think, Apostle of Hustle, Metric, Feist, Raising The Fawn, Stars, Junior Blue, Emily Haines and the Soft Skeleton, and many more. Basically, there's never a time when at least 3-4 of those bands have a new album out, which makes the members of Broken Social Scene the hardest working Canadians in show business (my apologies to Alex Trebeck ).
In recent times the Broken Social Scene brand has branched out into solo projects. Last year they released the first of these projects, titled (appropriately)
Broken Social Scene Presents: Kevin Drew, Spirit If
. . ., and it ended up being one of the
more enjoyable releases of the year
. This time around BSS is back to support the first 'solo' effort from founding member Brendan Canning.



Something For All Of Us

is a befitting title, as there are many faces to the moods found on this collection of songs. As one would expect from any BSS-affiliated effort, there are moments of beautiful chaotic energy ("Hit the Wall", "Possible Grenade") tempered by more deliberate snippets of melodic balladry ("Snowballs and Icicles", "Been At It So Long"). While at other times Brendan drives the ship towards more groovy pastures ("Love Is New").

Whatever the vibe being showcased, the real star is always the carefree rhythmic dynamic of the Broken Social Scene sound. I can't overstate how refreshing it is to hear a group of musicians who obviously relish playing with each other. Their enthusiasm for making music for music's sake is both entertaining and admirable. I can't wait to see how that spirit manifests itself next weekend when they headline the Sunset Junction Street Fair.



Update

: The audio player links work for me in Safari and Opera, but not in Firefox or Internet Explorer. I have no idea if this is a problem only for me, or if it relates to the browser. Please leave a comment if you are having problems listening to the songs.

Broken Social Scene Presents: Brendan Canning - "Hit The Wall" (from

Something For All Of Us

)
Broken Social Scene Presents: Brendan Canning - "Love Is New" (from

Something For All Of Us

)
Broken Social Scene Presents: Brendan Canning - "Snowballs and Icicles" (from

Something For All Of Us

)