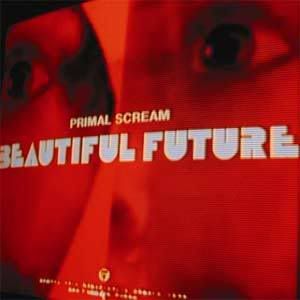 Primal Scream is one of those bands that I haven't really thought about in years, yet whenever I pick up one of their albums I'm almost surprised by how good it sounds. Not because I expect not to like it, but rather, I forget how good this band can be.

I have no idea why that is, considering they gave us three of the best albums to come out of the UK rock scene in the last 20 years.
Screamadelica
was simply a masterpiece of electronic ecstasy, every bit as important as any album produced by the "Madchester" scene of the early 90's. While 1997's
Vanishing Point
explored the darker underside of dance music better than most by leaning heavily on dub and trip hop influences. Then in 2000 they hooked up with Kevin Shields to create one of the heaviest albums I've ever heard.
XTRMNTR
was a mash-up of industrial noise and anti-establishment political fury that tested the limits of my speakers (and eardrums) while I was in college more than almost anything else I listened to.
Yes, there's been a few clunkers in-between (1994's

Give Out But Don't Give Up

, and 2002's

Evil Heat

), but at least you could never accuse Primal Scream of complacency. As they released their ninth studio album,

Beautiful Future

, last month I was reminded once again how good these guys can sound when they stay focused on their strengths.

On "Can't Go Back" all of them are on display in spades. In short, it's a high-octane mix of punk guitar sonics, dance grooves and pop rhythms that sounds like a (slightly) less intense version of "Accelerator." It bears similarities to the "Nu-Rave" (I hate that term, BTW) sound of Klaxons, which makes sense considering they wouldn't exist if it weren't for the strong influence of Primal Scream's earlier work, but it's refreshing to hear someone who helped originate this sound recapturing the glory (even for a moment) without even trying (seemingly).


Primal Scream - "Can't Go Back" (from

Beautiful Future

)