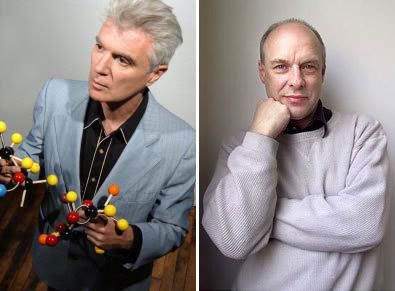 David Byrne
and
Brian Eno
are musical geniuses. This cannot be argued. Eno has his fingerprints all over some of the most influential musical creations ever created (Roxy Music, the invention of Ambient, No Wave, the Berlin Trilogy with David Bowie, producing U2's best albums, and so much more), while Byrne fronted one of the five best bands of the 1980's (
Talking Heads
), popularized the incorporation of international influences into pop music, ventured into successful solo projects in photography, art, and film, wile also running a successful record label. While both artists crossed paths numerous time, it was a collaboration in 1981 that produced one of their most memorable works.
My Life in the Bush of Ghosts
may not be their most popular composition. Certainly it isn't their most accessible, but it's hard to deny its immense influence. When I discovered this album in an indie record store in Ventura, CA I knew nothing about it, but I saw the names of these two and decided there's no way is can't be good. After giving it one spin on my record player I knew this was unlike anything I've ever heard before (or since). And when the news broke a few months ago that Eno and Byrne would record again, I was obviously giddy with glee.
Now let's be clear,
Everything That Happens Will Happen Today
is nothing like
My Life in the Bush of Ghosts
. It's far less ambitious, yet that doesn't mean it isn't a great album.
While Ghosts was the result of direct studio collaboration between two men at the peak of their musical experimentation, ETHWHA was conceived via less personal means. The idea for the album was borne out of necessity more than anything else. When Eno mentioned that he had many songs in need of vocals, Byrne became the obvious choice to fill in the gaps. From there the two began to exchange tracks back and forth, with almost no time spent in the same room together. The result is a melodic album of "electronic gospel" (their term) that is a compelling interpretation of pop music.

I'll confess, I love David Byrne's voice. He's perfectly suited for pop music because of both his range and ability to harmonize with virtually any genre. On this record the best moments come when Byrne floats away on top of lazy rhythms to let his voice do all the heavy lifting ("My Big Nurse", "The River").

At other times the full force of the dynamic duo produces wonderful moments of beautiful pop exuberance. On "Life is Long" Eno provides a festive mixture of deep syncopated bass, digitized drums, dreamy keyboards (seriously, is there a better keyboard player alive?), and understated horns to give Byrne one of the poppiest melodies he's had in years. Of course, he knocks it out of the park and the resemblance to Little Creatures era Talking Heads is downright scary. While "Strange Overtones" shines thanks to Eno's synth-heavy kaleidoscope of colors and Byrne's bright falsetto.

Not every song on ETHWHT is a winner, but the moments of greatness are too good to make this anything less than an enjoyable record. Thankfully, the duo made it easy for fans to decide for themselves by making the entire thing available via an embeddable widget. Enjoy!