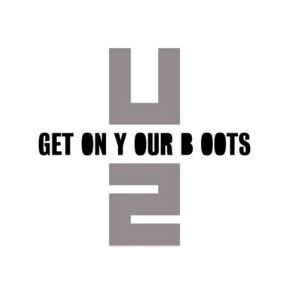 After a four year hiatus,
U2
is finally ready to unveil new music to the rest of the world. "
Get On Your Boots
" marks the first shot of what is sure to be a two or three month mega-promotional blitz for the supergroup's 12th studio album,
No Line on the Horizon
(available March 3rd in the US). So, get ready to see these guys plastered all over the place for the foreseeable future.
As an unapologetic fan of U2, I have absolutely no problem with this. The last two albums, while not large creative leaps forward for the band, still brought many moments that displayed their knack for writing driving anthemic rock music as well as melodic pop. This time around all signs point to a change of direction as early reports say Bono, The Edge, Adam, and Larry have branched out into more experimental territory.
Because of that swirling bass line and Bono's vocal delivery comparisons to Elvis Costello and Escape Club are inevitable, yet there's more going on here than that. . For starters, The Edge doesn't so much like...well, The Edge on this song. His guitar is a little grimier than I've ever heard, absent his trademark shimmering sound and even touching on (dare I say) metal influences. He sounds like he's taking his cues from Jimmy Page, which is almost never a bad thing. Add a whole bunch of Larry Mullen snare bombast and a catchy chorus ("you don't know how beautiful you are") and you have a driving rock song that seems to get better with each listen.

Of course, I am far from an impartial listener, so I will let you listen to it to make up your own mind.