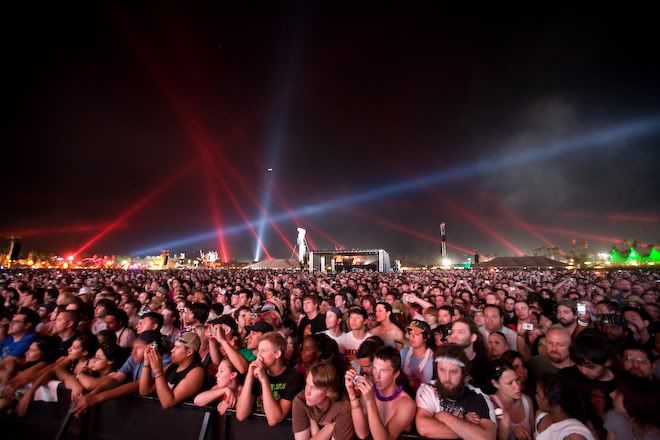 With apologies to
Lollapalooza
, no music festivals in the US generate more wild lineup speculation and irrational emotional attachment from its fans than
Coachella
and
Bonnaroo
. I don't understand why that is, since each festival occurs at opposite ends of the country, but many of the die-hard fans feel like they need to put down one in order to praise the other. I guess when you gotta pony up hundreds of dollars to attend either one, it's only natural to justify your ticket purchase with such juvenile exercises.
Petty rivalries aside, these two mega festivals provide a glimpse into what the Summer festival season has in store amidst a terrible economy. While the fans on each festival's message boards fueled unfounded rumors of a Led Zeppelin reunion, or the even more improbable scenario of Morrissey and Johnny Marr burying the hatchet to reform The Smiths (will this rumor ever die?), those of us who were realistic knew there wouldn't be any unbelievable headliners to either festival. The fact is nobody has money to spend this year and it wouldn't make fiscal sense for Goldenvoice or Superfly Productions to pony up $10 million to reunite either of those bands. Ticket prices for both events are already expensive as it is, and even though you can now
buy tickets using layaway
, I wouldn't be surprised if both festivals struggle to sell out.
Still, I got to hand it to both Goldenvoice and Superfly, they managed to put together strong lineups in a horrible economic environment that has caused some festivals to go dark altogether. Of course, Coachella and Bonnaroo are such strong brands that cancellation/postponement are not an option simply because they are viewed as the standard by which all other festivals are measured (at least in this country). So, it's possible (or even probable) that 2009 sees a consolidation in the amount of festivals held as other less established events struggle to attract marketable talent.

But back to the lineups. Paul McCartney and Bruce Springsteen are certainly smart headliners during a recession year. Baby boomers are more likely than people under 30 to have the disposable income to attend either festival, not to mention that tickets to see either artist on their own tour would cost at least $100 anyway. And if you are familiar with the allegiances of Southern California music fans (especially in San Diego and the Inland Empire), then Morrissey and The Cure should help bring large crowds to the Empire Polo Field. Similarly, the reunited Phish is certainly a big deal to Bonnaroo die hards who were around when the festival was a haven for jam bands.

Looking at the rest of the notable acts, Coachella definitely stays true to its reputation of booking music snob heroes from days of yore. While many people might not realize this, Leonard Cohen playing ANYWHERE (let alone in a massive field in Indio, California) is a big fucking deal. So is the reunification of Throbbing Gristle, who haven't played a show of any kind since 1983 and only played in the US twice before. I'm not saying their performance will go over well amongst the throngs of Robert Smith worshipers, but it should be intriguing nonetheless. And booking My Bloody Valentine, even if it was a year late, finally brings Kevin Shields and friends in front of the audience that's been begging to see them for several years.

Bonnaroo managed to keep things interesting with Wilco (why they rarely play East of the Mississippi makes no sense to me), David Byrne (I'm jealous he's playing there before he's played Coachella), Al Green, Nine Inch Nails, The Beastie Boys (surprisingly not a great live act in large setting), and Elvis Costello. Couple those acts with many of the same artists on the middle and bottom portions of the bill that are playing Coachella and it become quite difficult to say one festival is better than the other. In fact, unlike previous years, I wish I could go to both. Of course, in this economy I'm luck I can afford to attend at least one.